The Southend, Essex and Thurrock Domestic Abuse Board (SETDAB) is made up of representatives from agencies and organisations working to join up and better facilitate Southend, Essex and Thurrock's vision to work together to enable everyone to live a life free from all forms of domestic abuse. The Board is responsible for designing and implementing the Domestic Abuse Strategy across Southend, Essex and Thurrock. SETDAB provides strategic leadership to address domestic abuse by providing a multi-agency framework, common ethos and co-ordinated approach to innovate, drive change and address domestic abuse.
Following on from the successful work completed during the lifetime of our Joint Domestic Abuse Strategy 2015-2020 we have now issued our Domestic Abuse Strategy for 2020-2025.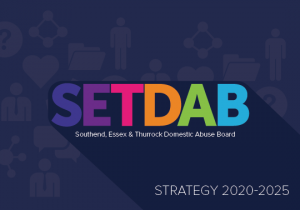 To develop our Domestic Abuse Strategy for 2020-2025 we undertook a range of activities:
Essex County Council (ECC) Public Health delivered a Domestic Abuse Needs Assessment;
Essex Police delivered a Domestic Abuse Problem Profile Report;
SETDAB hosted a number of workshops with our key partnership agencies to inform the development of our outcomes and key actions;
Gathering service user feedback through face to face meetings and focus groups with a range of individuals from diverse communities including individuals with learning disabilities, mental health issues, young adults aged 16+, victims of stalking and vulnerable domestic abuse victims identified as having high level needs as well as perpetrators of abuse;
Finally undertaking a 12-week open consultation period on our website.
The strategy identifies five key outcomes:
Children & young people can recognise and form healthy relationships;
People experiencing and at risk of experiencing domestic abuse are supported to be and feel safe;
Everyone can rebuild their lives and live free from domestic abuse;
Supporting and disrupting perpetrators to change their behaviour and break the cycle of domestic abuse;
Communities, professionals and employers are able to recognise domestic abuse at the earliest opportunity and have the confidence to take action.
The aim of our Strategy is to lead to consistent and coordinated action, bringing our collective resources together to address the issues of domestic abuse. The Domestic Abuse Board monitors the implementation of the Strategy and its underpinning delivery plans.
SETDAB Domestic Abuse Strategy 2020-2025
Southend, Essex and Thurrock Domestic Abuse Strategy for 2020-2025
SETDAB Annual Report 2022/2023
Southend, Essex & Thurrock Domestic Abuse Board Annual Report 2022/2023
Previous Strategy and Related Documents
Southend, Essex and Thurrock Joint Commissioning Strategy for Domestic Abuse 2015-20
Southend, Essex & Thurrock Domestic Abuse Board Annual Report 2021/2022
Southend, Essex & Thurrock Domestic Abuse Board Annual Report 2020/21
Southend, Essex and Thurrock Domestic Abuse Board Annual Report 2019/20
Southend, Essex and Thurrock Domestic Abuse Board Annual Report 2018/19